Explore Iasi – one of the Easternmost Cities of the European Union
Boasting a unique character, the city of Iasi takes pride in being…
an alluring 600+ year, 400,000-inhabitant city in Northeastern Romania
a vibrant IT hub; Iasi ranks 6th in the top 10 cities with the fastest Internet speed in the world
a cultural capital of Romania; its National Theatre made it in the top 7 most breath-taking theatres of the World, according to the BBC
home to one of the 25 most beautiful libraries in the world (part of the University Palace), according to Boredpanda
a felicitous destination for literature lovers: you will walk on the footsteps of the most famous Romanian writers and poets, whether in the streets, parks or museums
a major educational pole at the EU border, with some 50,000+ students, 3,500 professors, 50,000 pupils and 3,700 teachers;
the birthplace of the first University of Romania: Alexandru Ioan Cuza University of Iasi, was established here in 1860 and is now home to over 24,000 students
an architectural gem of great historical significance – its rich past gave its inhabitants a deep sense of belonging and of treasuring values
a top Christian orthodox pilgrimage destination – the relics of Saint Parascheva of the Balkans (Sveta Petka) attract nearly one million pilgrims each year, especially in mid-October
a City of Seven Hills – its green surroundings are especially enticing for bike riding, outdoor trekking or exploring of old fortified monasteries
directly connected to 25 European cities (Paris, London, Rome, Madrid, Vienna, Milan, Torino …) and through them, to the whole world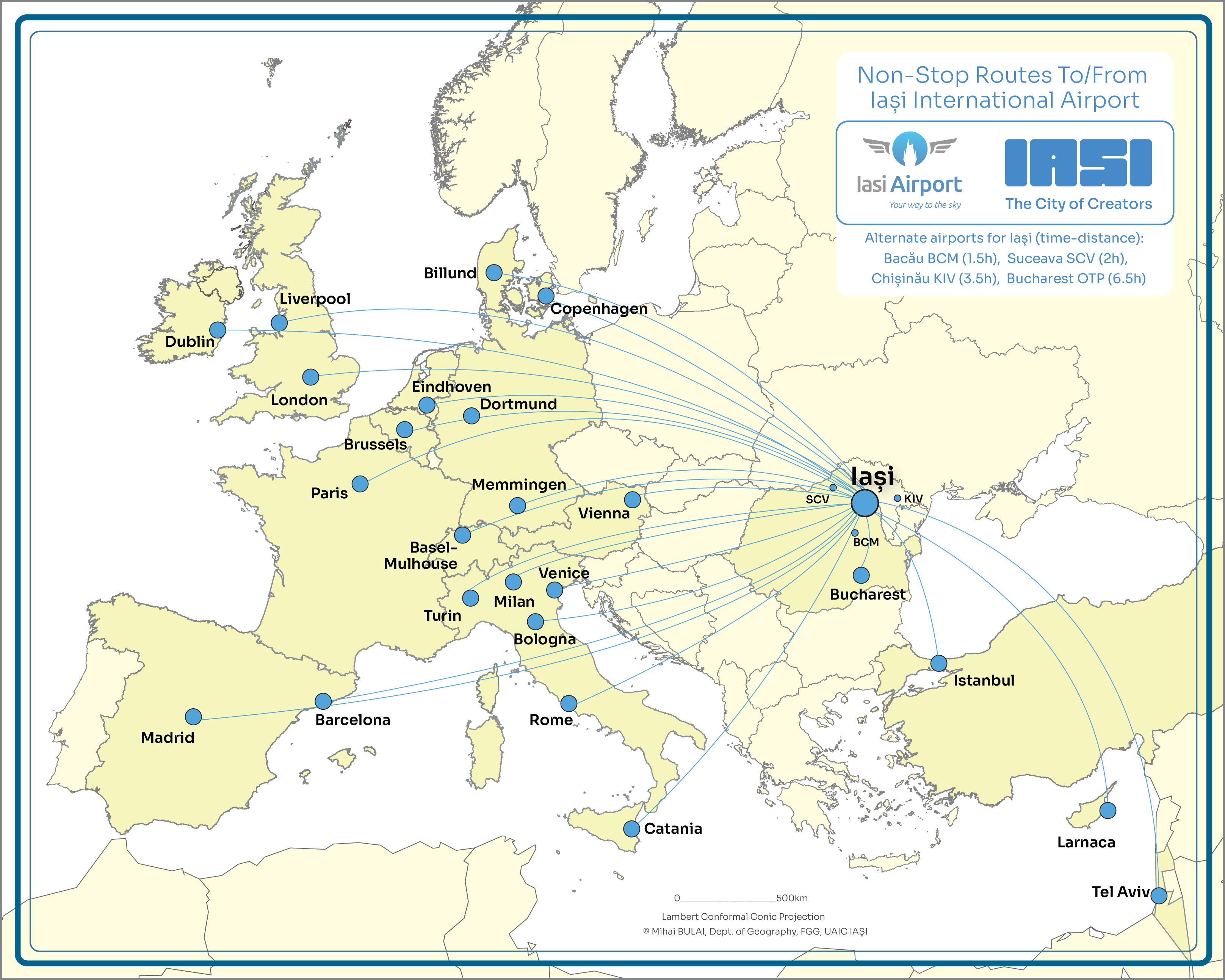 Getting around the city
With numerous tramways and bus routes which connect Iasi's main areas / tourist attractions, all being highlighted in a comprehensive public transportation map, you are sure to get your bearings around Iasi before you know it.
Culinary must-tries
Aside from a wide variety of traditional Romanian dishes, thanks to the ever-growing flow of international visitors and the mark of multiculturalism that's steadily gaining momentum, Iasi also offers a taste of the French, Italian, American, Chinese, Middle-eastern, Latin-American, Japanese cuisines.
Spoken languages
Iasi is a vivacious academic city through and through – from the top of its hills to the banks of Bahlui river; speaking fluent Romanian doesn't need to be one of your fortes, since plenty of locals are reasonably fluent in at least one of the most widely spoken languages in Europe, such as English, French, Italian or Spanish.